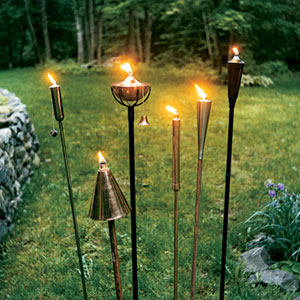 Those flimsy bamboo and coconut ­torches of luau-themed summer shindigs and Gilligan's Island reruns now come in dur­able materials such as copper, iron, and steel. They illuminate all manner of outdoor living—not just in warm climes, but also points north, even after the temperature drops.
"You wouldn't believe how many we ship to the Northeast in November," says John Manning of ­
BuyTikiTorches.com
, whose most ­popular model is the Maui, a hammered-copper torch that's sturdy enough to hold up well in any weather.
Use the new, kitsch-free torches to light the route from back door through backyard, to create an intimate glow around a patio dining table, or to illuminate a cook surface when grilling at night. Now available with low-smoke fiberglass wicks and deep, refillable fuel reservoirs, some can stay lit for up to 20 hours on either standard paraffin lamp oil or bug-busting citronella oil.
From left:
Waikiki Pewter Torch, $40;
itorches.com
.
Copper Tiki (stake not included), $149.50;
beachsidelighting.com
.
Maui Tiki Torch, $50;
buytikitorches.com
.
Petite Garden Torch, $30;
woodstockcopperworks.com
.
Orchos by Blomus, $50;
unicahome.com
.
Festive Patio Torch, $50;
buytikitorches.com
.