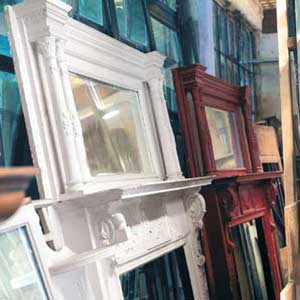 The fireplace was long ago rendered obsolete as a primary home heating source, yet it remains a favorite gathering place. A flickering fire—wood or even gas—is a comfort, and an invitation to relax.

But the hearth has also endured because of the wooden mantel that typically frames it. A mantel serves not only as an architectural anchor in a room but as a functional shelf on which to display prized possessions. That's why so many of them still grace the parlors, dining rooms, and bedrooms of old houses even when the fireboxes have been walled over to eliminate drafts.

For every surviving example, of course, there are dozens that were torn from walls during reckless remodels. Luckily, many discarded mantels have ended up at architectural salvage yards, where renovators can now buy them to restore what may have been removed by a previous owner or to add period detail to a new house.

Before 1700, humble settler cottages had combination heating and cooking hearths topped with a heavy timber shelf to support the masonry above it. But by the early 1700s, fireplaces with decorative wooden mantels—mostly simple paneled frames—were warming other common areas as well as bedrooms in colonial homes. More ornate ones with hulking overmantels, pedimented tops, and picture moldings, which were inspired by European pattern books, could be found in urban mansions and sprawling country estates.

Throughout the 18th century, mantels were typically painted to hide the fact that they were made with inexpensive wood or with more than one material. A simple poplar mantel, for instance, might have been decorated with applied flower motifs made of a plasterlike substance called gesso. It was also the fashion in the late 1700s to faux-finish mantels with a painted wood-grain pattern, says Elizabeth Cromley, a professor of architectural history at Northeastern University in Boston.

Elaborate mantels (both painted and stained) were also popular during the Victorian era—about 1860 to 1900—when millwork companies offered affordable mass- produced versions that mimicked the handcarved designs previously available only to the rich. Middle-class houses of the time featured high-style mantels made of birch and maple with intricate scrollwork in the legs and multitiered shelving in the overmantel.

By the turn of the 20th century, the pared-down aesthetic of the Arts and Crafts movement streamlined mantel design, and clear finishes were used to emphasize the grain of quartersawn oak. "The visual interest came from the material itself, not any applied ornament," says Cromley. Like Victorian-era mantels, these could be ordered from millwork catalogs.