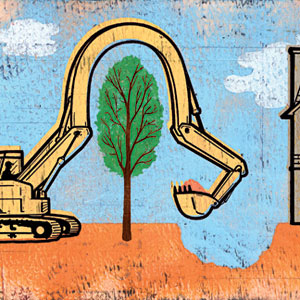 First, do no harm—or at least do as little harm as possible. Rob Moody may not be a physician, but his approach to home construction echoes the doctor's creed. That's why Moody, owner of the EcoBuilders in Asheville, North Carolina, starts every job by setting up nylon silt barriers reinforced with hay bales to prevent upturned soil from running into local sewers. Then he and his eight-man crew fence off trees in the yard at the drip line to protect delicate roots, throw down a gravel walkway so they don't track contaminated dirt into the house, and set out as many 12-foot trailers as it takes to accommodate recyclable building materials.

But the company, known for its dedication to maintaining green-as-can-be job sites, goes even further, using FSC-certified lumber whenever possible, buying paints and sealants with low levels of volatile organic compounds (VOCs), and—here's how you know they're serious—setting up a composting porta-potty. "We have an employee handbook that details everything," says Moody. Eco­Builders even uses vegetable-oil or biodiesel-powered trucks and equipment (and gives preferential treatment to any subcontractors who do the same). "All of my guys are dedicated to the cause," Moody says.

Commitment like that comes at a price. Because green products and pro­cesses tend to be more expensive, Moody charges 5 to 10 percent more than comparable non-green contractors. But that hasn't stopped him from quad­rupling his revenues in the past year. "You can build green on any budget," he says. "You just have to figure out how far you're willing to go."