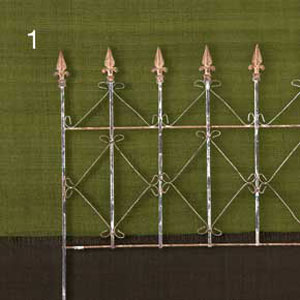 Garden edging is one of the quickest ways around to add instant style to the outside of your house. Sure, it performs an important function—defining planting beds and paths, and keeping grass from overgrowing its turf—but it also expresses personality. Stately cast-iron posts, for example, impart a regal look to a border, while rustic, rust-covered scrolls evoke an old-world country setting. The right edging can also complement a house's architectural style, whether it's graceful Italianate arches or the horizontal geometry of an Arts and Crafts bungalow.
Unlike wood edging, which can deteriorate over time, cast-iron, steel, and copper versions will only improve as they weather with age. Simple to install and maintain, most have stakes that extend into the ground for easy anchoring. Just make sure to stake the panels a few inches back from the edge of the bed, safely out of the path of string trimmers, lawn mowers, and the occasional marauding pet.
1. Rustic Iron
This white wrought-iron fence only looks like it's been around for decades. In reality, it's a new reproduction of a Victorian antique. 27 in. tall, 35 in. wide; $50;
arusticgarden.com
.
2. Aluminum
Painted black, this aluminum edging is a dead ringer for cast iron, but at a fraction of the weight. For added stability, consider a row of antique brick pavers along the base. 13 1/2 in. tall, 34 1/4 in. wide; $35 per panel;
charlestongardens.com
.
3. Natural Steel
Scrolls of steel have a clear powder-coat finish to help preserve the silver-gray tone. The fanciful design adds a touch of whimsy to a plain suburban split-level. 18 in. tall, 32 in. wide; $38 per panel;
charlestongardens.com
.
4. Cast Iron
For the been-there-forever look, you can't do better than rust-encrusted cast iron, with a design based on illuminations from medieval manuscripts. 6 3/4 in. wide, 7 3/4 in. tall; $24 for a set of three panels;
smithandhawken.com
.
5. Wrought Iron
This antique wrought-iron fence panel saw years of service on an early-19th-century estate, where it accented a row of hedges. 24 in. tall, 79 in. wide; similar styles from $500?$950;
bi-gardenantiques.com
.
6. Painted Steel
Inspired by the architecture of Frank Lloyd Wright's Oak Park houses, this powder-coated steel edger has a geometric look suited to modern exteriors. 14 in. tall, 24 in. wide; $29 per panel;
smithandhawken.com
.
7. Copper Coated
This delicate copper-coated steel panel is a metal version of traditional hoop-top willow edging a favorite in the English garden. 20 in. tall, 37 in. wide; $120 for four panels;
gidesigns.net
.