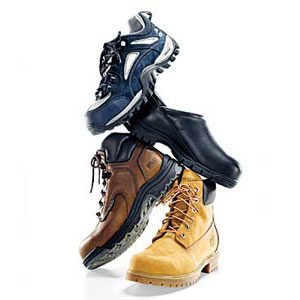 Last year I wore tennis shoes to our annual charity house renovation project for AmeriCares HomeFront. A TOH newbie, it was my first trip to a job site, and after witnessing a colleague's near miss with a dropped Belgian block and narrowly averting a broken toe or two myself when a gallon of paint slipped from my grip, I realized that my sneaks were inferior. Seeking a pair of steel-toed work boots for this year's project, I roamed the shoe department at Paragon, New York City's largest athletic- and work-gear store. But among the 700 styles of boots lining the walls, not a single pair fit the bill—or my feet, for that matter. They had lots of gargantuan work boots for men, but none sized for women's smaller feet.
Frustrated, I took my search online but found only western ropers, motorcycle, and hiking boots. With our project day looming near, I went to an Army-Navy store that also caters to the hard-hat crowd. That's where I first laid my eyes on Timberland's new line of women's work boots. "Do you work in construction?" the salesman asked as I slipped on a surprisingly cozy pair. I could in these babies, I thought.
Among Timberland's line of six safety-toe shoes for women are the classic yellow and brown leather work boots, mesh low-tops for clearing brush, and clogs that support your arches while painting. They start at $80; see
timberlandpro.com
for dealers.