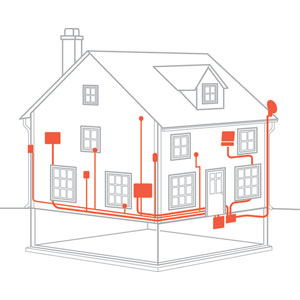 Twenty-five years ago, the only wires a house needed were phone and electrical lines. Nowadays, more and more houses depend on another type of wiring—a home network that connects the proliferating electronic devices we use for entertainment, communication, and security. Thanks to systems such as these, the owners of the This Old House TV project in Watertown, Massachusetts, for example, can plug a movie into the DVD player and watch it on any TV in the house, or control all the lights from a single keypad. And that's just the basics. Before long, it's possible that every electrical item in a home will be controlled from one central spot, which in turn can be accessed remotely via phone, PDA, or computer.

To make sure your house is ready for the arrival of that brave new world, it needs two separate wiring systems: one with low-voltage cables to connect the security devices, and one with "structured wire" to handle the phones, computers, TVs, and audio components. On the following pages, you'll see how a basic home network is set up and learn about some of the things it can do.

Installations of home security systems are best handled by a reputable specialist. For structured wiring, most electricians are up to the task—if they're careful. "If you strip the wire improperly, or even tug it a little bit too hard, you can totally degrade the signal," says Allen Gallant, the electrical contractor for many TOH TV show projects. He recommends finding an installer with testing equipment to verify that the finished job transmits at the rate it's supposed to.