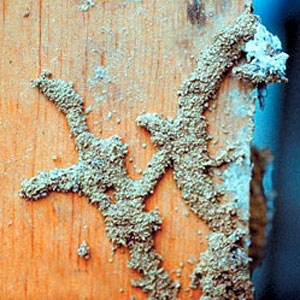 Contrary to a scary e-mail that's been circulating, Formosan termites are not lying in wait in bags of mulch at Home Depot and Lowe's. But some scientists say the house- and tree-munching bugs, which cause more than $1 billion in damage each year, may still be spreading to an area near you.
Supposedly, infested trees in New Orleans downed by hurricanes Katrina and Rita were being chipped into mulch and bagged for sale. The rumor, which proved as virulent as the bugs themselves, prompted Home Depot and Lowe's to fire back, saying they don't buy mulch from southern Louisiana vendors. Even if they did, authorities long ago imposed a Formosan quarantine to strictly regulate the movement of all wood materials from the city's 12 hardest-hit parishes.
Yet homeowners still need to be vigilant. Formosan termites were introduced into Gulf Coast ports some 50 years ago on ships from East Asia. The invasive species, which forms larger colonies and is more pesticide-resistant than domestic termites, now lives in 11 states, including Louisiana, Alabama, Florida, and Georgia. While they can migrate on their own, they've spread primarily through human transport, using railroad ties and telephone poles as their preferred vehicles.
These warm-weather bugs won't likely survive outdoors much north of the Carolinas, says Louisiana State University entomologist Dennis Ring. But they can live for years in any warm, moist home.
To prevent an invasion, Ring recommends thoroughly inspecting wood, paper products, and potted plants. He tells of a Baton Rouge builder who, long before the hurricanes, caused a damaging infestation in a new million-dollar manse when he installed a beam that he'd salvaged from another house. Had the builder hired an exterminator to fumigate the piece before bringing it inside, he would have averted the disaster, says Ring.
When remodeling, use pressure-treated lumber. And combat moisture by repairing roof leaks and torn flashing. Check
LSUAgCenter.com
for more safeguards that'll help protect you not just from Formosan termites, but wood-destroying beetles and fungi, too. False rumors aside, you can't be too careful.