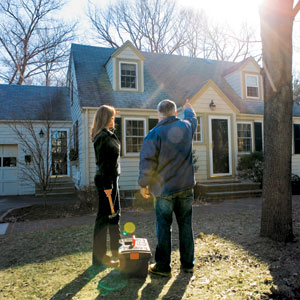 4. Consolidate Your Construction
Once you do figure out what you want to do, then make the most of the construction time and money. One of the best things about a house on a flat lot like yours is how easy it will be to add on—to bump out the kitchen into the backyard for that family room you want. What I'm suggest­ing is, while you're at it, make it a two-story addition, and you'll get a nice master bedroom suite above. The big expense is the kitchen; adding the upstairs space will just be an incremental cost. Plus you won't have to go through the hassle of construction twice. That's why I almost always recommend two-story additions.

5. Tighten Up
New ductwork and AC won't do much good if the air all goes right back out of the house. So there are two things I tell every homeowner: In­su­late, and deal with the windows. The San Diego weather has spoiled you, but you'll know what I mean the minute it's really hot or really cold.

I'll help you beef up the insulation. We could blow in cellulose, but I'd rather use spray foam because it doesn't need venting at the roof and makes an airtight barrier. Otherwise you'll feel sticky in the humidity, even with the AC on max, and you'll never get cozy on a windy day no matter how high you crank the heat. I say this to all my clients: It doesn't matter where you live, you can't have too much insulation.

But the windows on the first floor—they have to go. Usually I like to save originals like yours, maybe add storms over the single panes. But your sash haven't been maintained well—they're separating at the seams and missing a lot of the glazing putty that holds in the panes, so it's not worth the time and expense of repairing them. Get some modern, dual-pane windows. They're the best money saver you can have because of how much less you'll spend on utilities.

6. Make Sure You Have the Tools
I won't always be able to run over with my toolbox like a doctor with his black bag every time something needs fixing. Homeowners have to be prepared to make quick repairs, so get yourself some good tools. That way you can grab what you need when you need it.

Look, you don't need a trailer full of tools like mine. You just need enough to handle the simple jobs. That means a good hammer, a set of screwdrivers, some pliers, a putty knife, two good paintbrushes, stable wrench, a 2-foot level, a crosscut saw, a hacksaw, a square, and, of course, a tape measure. For power tools, stick with a cordless drill and a circular saw—don't forget the safety glasses and ear protection. Anything else can be added as your skills improve.

7. Go Looking for Trouble
By that I mean look for trouble on your house, Smarty. Twice a year, every spring and fall, pick a nice day when you and Jay can walk around and inspect the place for problems. Put on some gloves, grab a ladder, and check out all the parts of your house you don't normally notice or get to see from the ground—the roof, the upper windows, the places where the siding meets the doors and windows. If something doesn't look right, or needs a little repair—some loose gutters or a cracked windowsill—write it down. Or better yet, come back the next day and repair it. Which brings me to my next point...