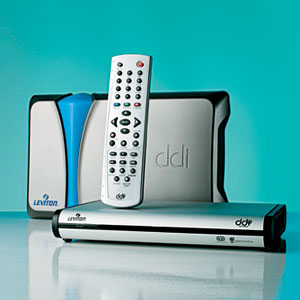 Sure, some people keep their music and movie collections neatly shelved and alphabetized by artist. But most of us have piles of random discs everywhere—a stack on the nightstand, some in the kids' rooms, under the seats in the car. And that's just CDs and DVDs. How about the mess of music files and family photos scattered around your computer's hard drive?


The high-tech solution to this problem is something called a digital media center. By storing all your entertainment files on a central "brain," a digital media center can distribute music, movies, and pictures to TVs and audio equipment throughout your house. That means never again finding your favorite Rolling Stones CD in use as a coaster, or popping Casablanca into the player and getting Caddyshack instead.

What's more, most of these systems let everyone in the house access content at the same time. So you can be listening to music in your office while the kids watch Curious George in the basement and your wife shows a vacation slide show to friends in the family room, all at the touch of a remote-control button.

Hiding the Hardware
The heart of any digital distribution system is the server, where your music and movies are stored. Sleek and compact, these units—essentially giant hard drives—can be tucked out of sight in a closet or basement. Some servers get connected to your home computer, where they detect entertainment files, pluck them out, then catalog and store them. Others come with built-in "media readers," which let you load CDs and DVDs directly.

The only visible component is the digital player, which looks like a small cable box and connects to your television. With a click of the remote, you can display on-screen menus that show you every item in your collection, sorted by title, artist, genre, or just about any other way you choose. "It's incredibly convenient and easy," says Josh Goldman, CEO of a California software company, who recently installed such a system in his house. "It suits our lifestyle, which has become basically an on-demand lifestyle."

If you already have the wiring for a home network, using one of these systems can be as easy as taking it out of the box and plugging it in. If not, you'll need to run cables to the rooms that will be connected or hire a professional installer. Most manufacturers don't recommend wireless systems because current technologies aren't very good at sending large video files over the airwaves—yet.