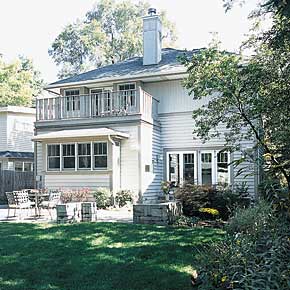 Renovating Rather Than Relocating

A half-century or so ago, homeowners who slapped on additions and undertook other "improvements" posed the biggest threat to the historic homes in Clarendon Hills, Illinois.

Nowadays, it may be teardown-happy developers who are erecting bloated McMansions on relatively modest parcels of land. Buyers of these new homes like Clarendon Hills for the same reasons people have for a hundred years. It's just 17 miles from Chicago, with a train stop right in town. And it's quaint, in a Grant Wood-meets-Norman Rockwell way. There's a local diner and a hardware store, kids ride their bikes to soccer practice, and police officers greet residents by name.



That small-town charm is one reason the owners of this 1909 American four-square, which had been added on to in the 1940's, decided to renovate rather than relocate—reworking the kitchen and adding a master suite upstairs to make the house more livable for their family of four.

In part, the wife, an electrical contractor by trade, saw it as her civic duty to save the home rather than watch it be razed. And doing so was something of a family tradition. When she was growing up, her mom bought a succession of homes in the area and lovingly restored them—dragging her family along with her as she did. "Many of the people around here now want new homes," she says. "But I want to take these old bombs and clean them up."