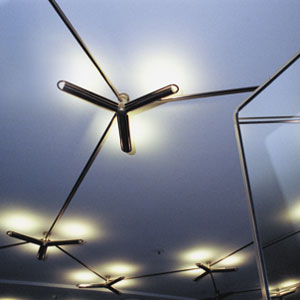 You might not think it to look at one, but there's a pretty dramatic story behind the electric ceiling fan. Invented in 1882, its early applications were commercial—in city meat markets for instance, to turn away airborne pests. But fans' breeze-generating abilities soon made them staples in homes. That popularity wouldn't last long, though. By the mid-1900s, with the rise of air-conditioning, ceiling fans came to feel old-fashioned. It took the energy crisis of the 1970s to make them cool again.

The Past
Twenty-five years ago fans were still stuck in the Victorian era, with brass-finished motors, wood blades, and frosted-glass lights (that's if they weren't all-white "builder's specials" designed to disappear into the ceiling altogether). Mechanically, they weren't all that advanced, either. A fair amount of wobbling was considered normal, and most had only two speeds—on and off. But change was in the air. Over the next decade, improvements both inside and out would give rise to fans that were truly modern.

And another decade was needed for the fans to become truly stylish. In the 1980s, designers started experimenting with form, using a variety of materials and shapes to give fans a more architectural look. The technology got better too, with motors that self-cool and better-balanced blades. Today's ceiling fans are marvels of quiet efficiency, in just about any style you can imagine.