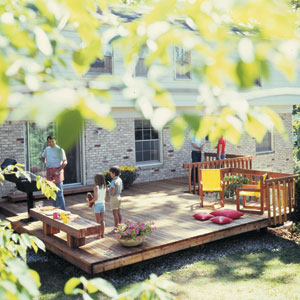 Once little more than an architect's afterthought, decks today are the toast of many a backyard. The trend toward outdoor cooking has been the driving force. But decks are more than extensions of the kitchen. Good for entertaining guests, curling up with a book, or hanging out by the hot tub, they serve as a great room in the open air. And as deck materials and construction methods evolve, designers are pushing the limits of form and function further than ever before.

The Past
In the 1970s, you could have any deck material you wanted, as long as it was wood. Out West, redwood (shown above) and cedar dominated. In the East, pressure-treated pine was starting to edge out Douglas fir as the material of choice.

For all the lip service we pay the great outdoors, you'd think homeowners might have caught on to the potential in decks sooner. But 25 years ago most decks were still the postage-stamp variety—8-by-10-foot on-grade platforms tacked onto the rear of a house. Their functionality was scaled down, too. Families may have barbecued dinner on the deck, but chances are they still ate it inside.

Things started to change in the early 1980s, thanks to a handful of pioneering deck designers out West. "We started playing around with the rectilinear form, treating the deck not just as a strictly utilitarian space but rather as a legitimate architectural element," says Scott Padgett, a designer/builder based in Southern California whose decks have garnered national attention for two decades. By the mid-'80s homeowners were starting to think about decks as an extension of their interior living space.