As Seen on TV: Great framing ideas from TOH project houses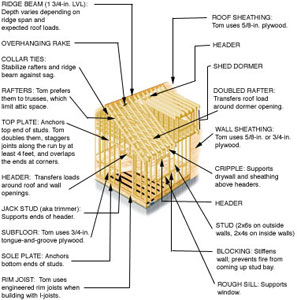 Metal Hangers and Ties
Concern about the weakness of nailed joints, particularly in earthquake and hurricane prone regions, has made metal straps and ties a fixture in codebooks and on today's job sites, even where such natural disasters seldom occur. There are hundreds of different types of galvanized-steel fittings, from joist hangers to hurricane straps, with new ones coming on the market almost every month. Each connector uses more nails than an "old-fashioned" joint because every hole in the connector needs to be filled. But with the right nail gun there's almost no reduction in installation speed. Note: Use only nails specified by the manufacturer—no substitutions!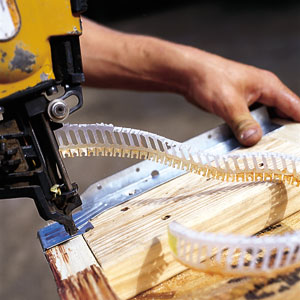 Lightweight Joists
An I-joist consists of a "web" of high-grade OSB (oriented strand board) glued between two horizontal "flanges" of conventional lumber or LVL (laminated veneer lumber). It's just as strong as a sawn 2x of the same width but only half the weight, and it's made in lengths of up to 60 feet. Best of all, holes for plumbing and ductwork can be cut through the web (at specified sizes and intervals) without compromising structural integrity. TOH first used I-joists at the 1989 barn project in Concord, Mass., and Tom has been using them ever since.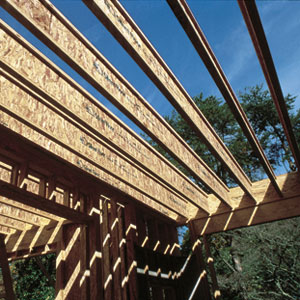 Engineered Beams
LVL beams are composed of wood veneers glued together under heat and pressure. All the veneers are oriented precisely in the same lengthwise direction, making LVLs nearly 20 percent stiffer than ordinary sawn lumber. While LVLs are commonly used as ridge beams and headers above windows and doorways, Tom has also used them as joists, rafters, and stair stringers—anywhere he needs maximum performance in minimum space. They're heavy, but Tom likes them because they're as strong as steel, yet he can cut them with an ordinary saw.