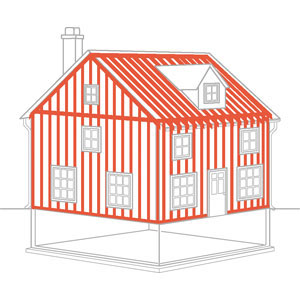 A frame is the skeleton of a house. If the frame is strong, it provides the necessary support for everything that follows. But if it's weak, no amount of expensive finishes will hide the flaws: Those perfectly plastered walls will begin to crack every time a door slams, the granite countertops will gradually fall out of level, and the quartersawn oak floors will bounce and squeak like a rusty spring. "Shortcuts in framing are the biggest mistake you can make," says Tom Silva, This Old House general contractor, "although it may take four or five years before the sagging, the bouncing, and the movement start to show up."

While the basics of modern stud-wall framing haven't changed much in the past 25 years, the tools and materials certainly have. Pneumatic nail guns, which were novelties until the mid 1970s, have speeded up the assembly process; engineered lumber is steadily supplanting sawn boards, and metal connectors are now routinely used to enhance stiffness and sturdiness.

But Tom warns that tools and materials by themselves don't guarantee a strong house frame. They need to be in the hands of a skilled carpentry crew who know how to use them. "They'll build it right the first time," Tom says, "so you won't be sorry later on." To see how Tom frames a house, read on.