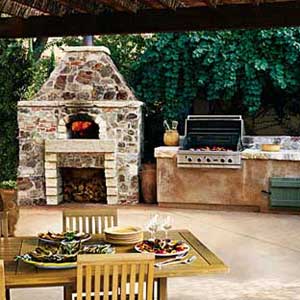 OK, Grillmeister, now that you've got your state-of-the-art outdoor kitchen cookin', don't go flameout with bland BBQ. This Old House asked Grill God, Steven Raichlen, author of The Barbeque Bible book series and star of PBS' "Barbecue University," for an all-purpose, no-fail, finger-licking good marinade that we could use on beef, pork, lamb, poultry, even seafood. Just for TOH readers, Raichlen adapted a winner from Raichlen on Ribs, Ribs, Outrageous Ribs (Workman $12.95), that's hitting bookstores this month.

The secret to this crowd pleaser, says Raichlen is the marriage of the sweet and the salty, "and that trinity of Asian flavorings: ginger, garlic, and scallions that will crustily char on the grill." Stop drooling and go fire it up.

The Ultimate Sweet Soy Grill Marinade
Method: Direct grilling.
Advance prep: At least 1 hour for marinating.
Serves: Four.
You'll find versions of this Asian-inspired marinade everywhere from Hong Kong to Seoul to Chinatown. Why? Because it's foolproof and doesn't require smoking, meaning it's ideal for gas grills, charcoal grills, and hibachis.

1 cup sugar
3/4 cup Chinese oyster sauce (See Note)
1/2 cup soy sauce
1/2 cup sake (Japanese rice wine), Chinese rice wine, or dry sherry
3 cloves garlic, minced
1 piece (1 inch) peeled fresh ginger, minced
2 scallions, white parts minced, green parts thinly sliced


1. Place the sugar, oyster sauce, soy sauce, sake, garlic, ginger, and scallion whites in a large, nonreactive mixing bowl and whisk to mix. Stir in meat, poultry, or seafood. Cover the bowl and let marinate in the fridge for 1 to 2 hours.
2. Set up the grill for direct grilling and preheat to high.
3. When ready to cook, brush and oil the grill grate. Place the meat,poultry or seafood on the grate and grill until cooked, alternating sides. Time will vary depending on what you're grilling.
4. Transfer to a platter or plates, sprinkle the scallion greens on top, and serve.

Note: Oyster sauce (sometimes called oyster-flavored sauce) is a thick brown condiment made from oyster extract, soybeans, sugar, and salt, but curiously, no fresh shellfish. It does, however, have a briny tang reminiscent of oysters.