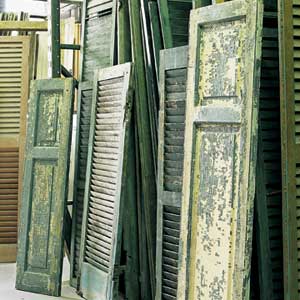 Vintage Shutters, Part 1
It's been said that American colonists pulled thick wooden shutters closed to shield their families from the arrows of attacking natives. While it's true that exterior shutters have provided protection against intruders, their primary purpose back then, as now, was to control light and air flow.

Some of the first American shutters adorned simple, wood frame houses in 17th-century New England. These shutters were actually single boards, or board-and-batten panels, that were hung to one side of the window and could be barred from within. "This would have been a crude method of keeping out the elements and providing security," says Joseph Cornish, senior stewardship manager for Historic New England, a preservation group that oversees dozens of historic house museums. "Glass was also very expensive in those days and they wanted to protect it from being broken."

By the second half of the 18th century, exterior shutters came in pairs that flanked both sides of a window. These modern models, seen on Georgian and Federal style houses, were either solid with raised panels, louvered, or a combination of the two. On the first floor, solid shutters offered security, insulated windows, and kept sunlight from fading drapery and furniture. The centered slats on louvered shutters—which came in both fixed and adjustable versions—provided ventilation, light control, and privacy on second-story windows.