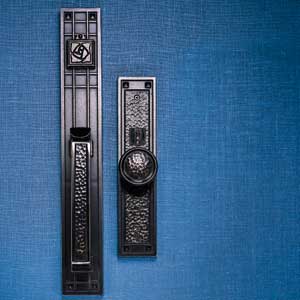 Time was, the lock on your front door was the only thing protecting your house. Home security is a lot more sophisticated these days, but even in an age of motion detectors and hidden cameras, an entry lockset is still your first line of defense against intruders. It's also the first point of contact for those you welcome inside, which is why a lockset remains the most important piece of house hardware you'll ever buy.
Manufacturers know it, and so today they offer a nearly limitless array of options in styles, finishes, and materials right for any exterior. Cast brass, bronze, and steel are the popular choices, able to stand up to any weather and look good doing it. But you can also find zinc, aluminum, even pewter. You can have a handle, a lever, or a thumb latch; a keyed knob or a deadbolt; a hand-rubbed oil patina or a shiny lacquer coating.
So how do you choose? Take a look at our lockset lineup on the following pages, and let that be your key.
1. Craftsman
This Arts and Crafts—style mortise lockset, perfect for a Craftsman bungalow, is cast in bronze with a hand-rubbed oil finish. A swinging cover keeps debris out of the keyhole and hides the lock's workings from view.
$1,365;
baldwinhardware.com