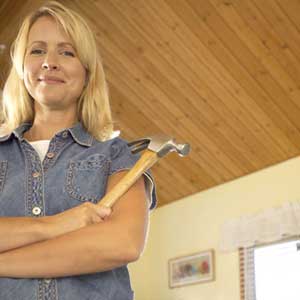 Face it. She doesn't want a vacuum cleaner. And that food processor you bought her in 1997, well, that's still in the wrapping paper. What she really pines for is her own tool kit. No, I'm not talking about one of those pink makeup-case look-alikes filled with wimpy "girl tools." I mean a respectable-looking bag, bulging with some of the best tools on the market for both women and men. The fact that some of the tools also have ergonomic grips, or are made with high-tech metals to reduce weight but not power, just means that Mom's new favorites will also be the ones Dad always reaches for.
Best Tools for Mom (1-6)
1. Stiletto's 10-oz. finish hammer packs the punch of heavier, 16-oz. models without the extra heft. For that we can thank the titanium head, which also acts as a shock absorber to cut down on recoil and arm strain. Its curved hickory handle provides a comfortable grip for smaller hands. Price: $84.95 at
stilettotools.com
.
2. The Felo Bit Boy 374 from Bondhus is a ratcheting screwdriver that holds eight bits in a pop-up carousel built into the tip of its rubber-gripped handle. A powerful magnet in the tool's shaft holds the bits in place to make swap-outs simple and helps steady metal fasteners on the driver's tip. Price: $27.40; see
bondhus.com
for dealers.
3. Rubbermaid Tough Tools' adjustable wrench is perfect for basic plumbing repairs. The smooth, moveable jaws firmly grip nuts and bolts sized up to 1
¼
inch. A cushiony rubber coating on the long, 10-in. handle helps prevent slippage for greater leverage. Price: $9.99; see
rubbermaidtoughtools.com
for dealers.
4. The 2-in. putty knife from Marshalltown has a small, flexible steel blade for applying glazing putty to windows, spreading joint compound into hairline cracks in the wall, and patching screwholes. A flat rosewood handle provides a comfortable grip to reduce hand fatigue. Price: $8; see
marshalltown.com
for dealers.
5. The nonslip, rubber-gripped handle on OXO's Quick Draw utility knife swivels open for simple blade replacement. A spring-loaded cartridge inside holds extra blades so she'll always have a sharp edge at the ready. Price: $7; see
oxo.com
for dealers.
6. Silky Saw's Woodboy 240 fine-toothed Japanese folding saw works on the pull stroke, rather than the push. A thinner blade makes for faster, more accurate cuts with less sawdust, and because the reverse motion mimics her everyday behavior (think cutting meat with a steak knife), it's easier and reduces fatigue. Price: $51; see
silkysaws.com
for dealers.