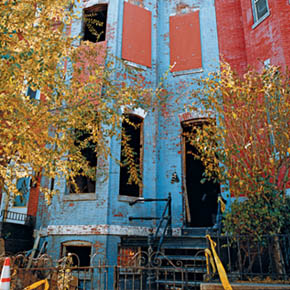 It's not that the boarded-up row house in Washington, D.C., was totally empty when Mi Casa Inc. acquired it from the city. It certainly had a lot inside: crumbled plaster, charred ceiling joists, garbage, animal bones, empty bottles, needles—all the detritus that went with its status as an abandoned inner-city building. It's just that it didn't have much of anything that made it look like the 1879 Italianate it once was.



Mi Casa, a nonprofit developer, intended to renovate the house, located in Shaw, a reviving neighborhood not far from the White House, and then sell it at cost to a low-or middle-income family. But the building was a mere shell by the time the team from This Old House television showed up to document the transformation. There wasn't one window left. The original living room mantel had been stolen. A fire had left the brick at the cornice ruined and the oak flooring water-damaged. And all the window and door casings were gone, save two in the kitchen—and even those were nearly thrown away.



With nothing left to give the house character, the renovation team, headed by local contractor Mahyar Mahvi, had to be creative. In the few places they could, they painstakingly copied remnants of detail. Where there were no such clues, they compromised on designs that were close but not exactly the same. And in areas where durability and efficiency were paramount, they installed new materials that looked original but were better made.



Whether it's in a whole house or just one room, every renovator encounters these issues. Here's how the team brought detail—and life—back to their house, using methods that will work on your home as well.