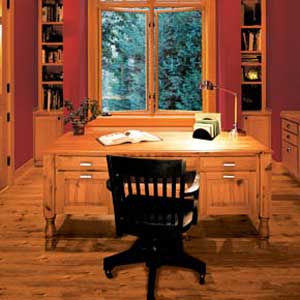 Never before has a luxury so quickly morphed into a necessity, but few people today would consider remodeling a house without making room for a home office. And it's not just the libraries and book-lined dens of early 20th-century homes that are making a comeback. Twenty-first-century computer niches and wired homework stations are finding their place on more floor plans, too. A recent study by the American Institute of Architects designated the home office the most requested "special function room" in the house. Chalk it up to the spike in part-time telecommuting, after-hours e-mailing, and an effort to keep the Internet out of kids' rooms. Whether it's a bare minimum desk off the kitchen or a full-blown study with custom cabinets, multiple work surfaces, and extensive file storage, most families just can't do without a flexible, functional workstation. As Hinsdale, Illinois, homeowner Ann Kohout put it: "Our home office might only be 7
½
-feet-wide and 6-feet-deep, but it's probably the most-used room in the house."
GETTING STARTED
Whether you're retrofitting a space for an office or starting from scratch, don't shortcut your setup.
Floor Plan:
Consider desk placement (back to the door, or not?), whether old furniture and bookcases can easily be fitted with electronics, glare that might obscure your computer screen, and whether you need a writing surface away from the keyboard.
How High:
Most desks are 30 inches, but that doesn't mean yours has to be. Designers build work surfaces up to 42-inches-high for homeowners who like to check e-mail while standing.
How Small:
If you're not going to use a chair, you could fit a computer station into an 18-inch-wide cubby. Want to sit? Expand it to 21-inches-wide, but for a pair of seats, allow at least 2 feet per person per workstation.
Lighting:
Layer lighting with recessed cans to provide ambient light, and undercabinet fixtures or desk lamps for task lighting. Dimmers and three-way bulbs let you easily adjust light levels for comfort.
Body Alignment:
To save your body undue stress, place the computer monitor 18 to 20 inches away from you, with the top third of the screen at eye-level. The keyboard should rest 1 inch above thighs and tilt slightly down and away from you. Elbows and knees should be angled at 90 degrees or more.
Ventilation:
Cabinets that conceal a hard drive might need additional breathing spaces or built-in grilles.
Wire Management:
Use desk grommets to funnel wires down from the desktop and out of sight. Or consider building the kneehole panel out from the wall and running wiring behind it.