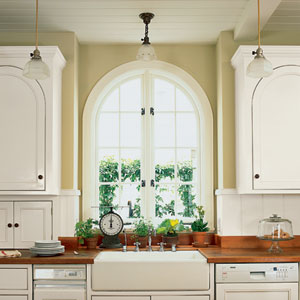 It's the ideal architects strive for when building a house: to create a distinctive home that's neither in style nor out of style, one that will never look dated but will have a timeless appeal. That's just what homeowners Graham and Patricia Espley–Jones were after when it came time to rethink their 1920s Newport Beach, California, home. The house's low ceilings, failing foundation, and series of bad additions led the couple's architect, Carol Tink–Fox, to recommend they start from scratch. And so the challenge was on: Design a charming, old–fashioned–looking home for a family of five on a skinny 40–by–100–foot lot. Attracted to traditional New England seaside homes, the couple started combing books on Nantucket and Cape Cod, flagging the features they loved. Topping their wish list were eye–attracting arched windows, functional wainscoted rooms, and built–ins as finely crafted as furniture. Working with designer Lynn Pries, who helped the couple adapt elements of the old homes they admired, the homeowners spent seven years adding details and perfecting their new 3,726–square–foot saltbox (shown on these and the following pages). Today, Patricia enjoys it when visitors compliment them on their handsome "old" home. "Then," she says, "we know we nailed it."
Windows and doorsDesigning windows and doors
for a house on a narrow lot with neighbors just 8 feet away on both sides is no easy feat—especially when the homeowners want plenty of natural light. Building the house in a U–shape around a courtyard helped create privacy. And placing windows up high in dormers or on walls where ceilings are vaulted let in light but not prying eyes. But the couple also wanted windows and doors with character. So, inspired by the round–top pantry door designed for the kitchen, they decided to weave an arch motif throughout. "I took the pantry's full radius arch and used it for the kitchen and dining room windows, the cabinet doors, the front door, and the folding French doors," says designer Lynn Pries.
Home building know–how:
While divided lights are traditional, they also create a subtle sense of enclosure—unlike single–pane and picture windows that invite the outdoors in. Feel like the neighbors are on top of you? Divided lights obstruct the view to the outside somewhat, making interior spaces feel cozier and more intimate.
To build a new home with an old look, work with an architect or designer who's willing to research and re–create the moldings used in period houses. "There's more going on in hundred–year–old homes than just a brick mold outside the window," says Pries, who likes to add lintels above windows and create aprons underneath sills.
Repeat features like arched windows and French doors throughout, just don't overdo it. Juxtaposing them against more conventional double–hungs and paneled doors reinforces their specialness.
WainscotingIt wasn't just the traditional look
of wainscoted walls that the Espley–Joneses found attractive, but also the easy–to–clean surfaces they provide in a house where kids routinely zip through on Razor scooters. Designer Lynn Pries used different types of wainscoting throughout the house to add interest, then painted them the same antique white to unify the millwork. Informal 6
½
–inch beadboard lines the kitchen and family room and continues up the stairs and into the second–floor great room; more formal 10–inch board–and–batten panels run about halfway up the walls in the dining room and foyer. Even the master bath has beadboard–style tile wainscoting around the soaking tub. V–groove ceilings in the kitchen, master suite, and kids' bedrooms echo the effect.
Home building know–how:
The height of wainscoting may vary from 30 to 54 inches. Years ago, it was determined by the height of a chair rail used to protect walls from damage when chair backs brushed against them. Then 36 inches was standard height, one still commonly used today.
Consider using different wainscots throughout a home, says designer Lynn Pries. While beadboard might work well in a kitchen or bedroom, raised or flat panels add formality to a dining room, especially when run halfway up the walls or even up to eye level.
Uneven floors and walls can be the biggest challenge when installing wainscoting, so measure carefully before you begin. You might need to cut your boards to different lengths, working down from the highest point on the chair rail, adding shims as needed to fill in wavy walls and level uneven floors.