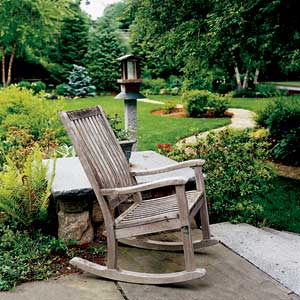 There are few pleasures in life more sublime than enjoying the great outdoors without leaving your home. With spring finally here, now is the time to think about expanding your home into the outdoors with a backyard deck.
There is an almost limitless number of options for making the backyard deck/patio area into something as personal and special as the interior of your home is.
You can create a simple, one–level deck where family members can sit and take in nature's many benefits, or go the other direction and build an exotic outdoor environment, one that includes an outdoor kitchen with grill, granite bar, refrigerator, and outdoor stereo system. The only real limits are your budget, your imagination, and what is permissible in your neighborhood.
Your first task, therefore, is setting your parameters: What do you want to achieve with your deck/patio? What do you want it to look like? How much do you want to spend? What restrictions are imposed by homeowner–association covenants and/or local zoning regulations? Do local laws require a building permit? Do you want to build it all yourself or contract it out?
A small, 10–by–12–foot, single-level deck built of basic materials as a do–it–yourself project can cost $500 to $1,000, but as the size of the deck increases and the quality of the materials goes up, that number can multiply exponentially.
As with any home–improvement project, the more research and planning you do on the front end, the better your deck endeavor will go. You'll save time, money and frustration by thinking through what you want to do ahead of time.
Fortunately, there are more resources available now than ever before to help design and build the perfect project for each need. In terms of online resources, one of the most helpful and easiest to use tools is the
Lowe's Deck Designer
, a comprehensive service that allows users to quickly and easily create custom decks or select example decks that the company stocks. The Lowe's Deck Designer generates a custom report for each design and offers a comprehensive list of accessories as well. It's free, too, which is a benefit.
There are myriad other sources of information as well. Decks USA sells a CD–ROM that includes more than 360 deck designs at
DecksUSA.com
. Other sites offering online deck plans include
HomePlans.com
and
Decks.com
.
You can use online sites to create decks in a virtual world before going through the time and expense of trying it at home, and you can also glean ideas for your design from the work others already have done.