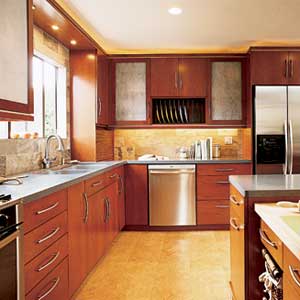 The last thing that kitchen designer Sandra Fairbank wanted in her remodel was something eye–catching. "I didn't want anyone to come in and say, Look at that range! Look at those granite countertops!" says the amateur chef, who hosts hands–on cooking demonstrations at her home for friends and colleagues. What she did want was a highly functional backdrop that flowed easily into the adjacent dining room—without breaking the bank. After making do with the existing 1980s kitchen for two years, the Santa Rosa—based designer decided to cut the fat, sacrificing her breakfast–nook table and chairs to gain a multipurpose peninsula with a lowered chopping block, an undercounter microwave and recycling center, and stool seating.

To bring the California landscape that she's passionate about indoors, she used natural and green materials, such as slate and cork, whenever possible. She sprang for all new stainless steel appliances from Bosch, but saved by foregoing a pro–grade range. Five weeks after the first cabinet came out, the remodel was done. Now when the foodie crew assembles for cooking–night demos, there's no more elbowing for counter space.

The Plan
Transform a classic builder's kitchen into entertaining central.

What She Did
1. Added a Peninsula Starved for food prep surfaces, designer and homeowner Sandra Fairbank gave up her breakfast nook in favor of an irregularly shaped, 6–foot–long peninsula. A 3–foot–wide dropped butcher block and knife drawers are built right into the unit. One corner is cut on an angle to allow for undercounter seating and to ease traffic flow.

2. Concealed clutter "I like everything put away," says Fairbank, who took advantage of the island to house a microwave, garbage and recycling bins, vegetable baskets, and a deep drawer for cookbook storage.

3. Built in a window seat When the peninsula became the kitchen's focal point, Fairbank decided to take advantage of the nook created by the window bay. She built the Asian–inspired cherry bench in her workshop and stained it to match the cabinets.

4. Put in a pull-out pantry A floor–to–ceiling pull–out pantry with chrome shelves went in next to the fridge to organize dry goods.

5. Centralized dish cleanup While Fairbank didn't move her fridge, range, or sink, she did reposition the dishwasher to sit under an overhead plate rack and glassware cupboards to make for speedy post-party unloading.