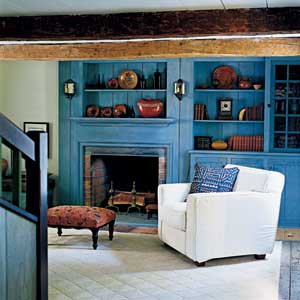 We were instantly taken with Ulster County when we visited friends there one weekend in 1990. Just two hours north of our apartment in New York City, it was still small-town rural, punctuated with 18th-century limestone houses. So Marilu and I started looking for a weekend retreat, but there were no rentals to be had. Could we afford to buy?

We returned every weekend and looked at about 25 homes. The real estate agent was very patient.

Finally we pulled up to a little house that had been shuttered for three years. The late owner, a curator who lectured at the Metropolitan Museum of Art, had spent summers there into her 80s.

It was dark and musty inside, and there was mold everywhere. An enormous catalpa tree, just two feet from the front of the house, towered over it, blotting out the sun.

The listing said the place was more than 100 years old. There had been some renovations, but nobody had destroyed its basic charm. I could see there was a bit of work to do—we couldn't just move in. In 1991, we bought the house and the surrounding nine acres for $120,000.

Renovation

To start, there were major things that needed to be addressed, like removing the catalpa tree, and so began the general cleanup we did on weekends. A lot of it was cosmetic, and I knew I could deal with it.

I'm a bit of a draftsman, architectural detailer, construction project manager, and cabinetmaker all in one. Years ago I learned this very specialized skill called shop drawing, which means making blueprints used for building; it would be crucial to our renovation. But because of our full-time city jobs, we soon realized we couldn't do it all ourselves.

Among the first things we did was have new oil and septic tanks, a boiler, insulation, and a new well pump and filtration system put in. I also found a contractor, Neal Mitton, who did precision work. He turned out to be a great partner.