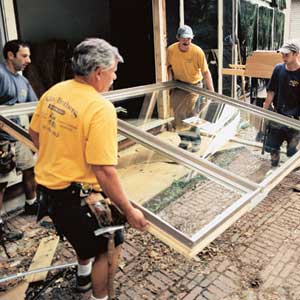 Its 1950 Modern style and backyard expanse of greenery are what make George Mabry's house all about the windows. Lots of windows. Eighty-one of them, to be exact, including a whole line of floor-to-ceiling picture windows looking onto the leafy scene out back. "I basically bought the house for the huge backyard," George says of the sloping one-third-acre lot. "I want to be able to see it from every room."

In that respect, George's home—this season's This Old House television project—is a typical Modern house. In the middle of the 20th century, Modernist architecture embraced new steel-frame building techniques, freeing exterior walls from the burden of supporting the roof. That meant the walls could become curtains of glass, in effect dissolving the barrier between inside and out. The most famous example of this is Philip Johnson's 1949 Glass House, in New Canaan, Connecticut, in which all four exterior walls are made of windows.

Though large windows fell out of favor in the energy-conscious 1970s and '80s, today, both the glass and the frames holding it are much more efficient. Despite rising fuel costs, homeowners are adding more glass to homes big and small, whether as part of a remodel, an addition, or all-new construction. "As the technology gets better, people are feeling less guilty about going with bigger windows," says Will Ruhl, the architect for the Cambridge, Massachusetts, TV project. "They like having the house connected to the outside."

Unfortunately, most of this house's large windows and sliding glass doors are the original, half-century-old, drafty single-pane units and have very little insulating value. They let too much heat blow out in the winter and roll in during the summer—for low efficiency in both seasons. Any replacements not only need to provide better insulation, they also need to protect against the bleaching effects of sunlight on wood floors, artwork, fabrics, and furniture throughout the house. And they need to ensure privacy from the road in the front.

It's a lot to ask: endless views without bottomless energy bills, privacy without sacrificing daylight, and sunshine without fading. But improvements in technology—combined with careful placement—are bringing today's windows close to meeting those ideals.