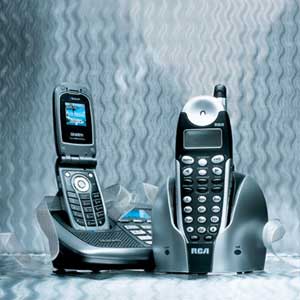 Some people say a "smart home" is one that will draw the shades at the sound of your voice or light your garden path as you stroll along. But the truth is, great technology is the stuff that solves problems you already have, like keeping the floors clean, getting decent cell-phone reception inside the house, installing whole-house audio without tearing up walls, giving kids a safe and easy way to cook their own snacks. Here are a few innovative products we've found that will really make your home a smarter place.

Cell phone that acts like a home phone

Cell phones don't always work inside the house, and it's especially easy to lose calls if you're talking while walking from room to room. All sorts of obstacles can block reception, from the building materials and decor inside your home to the landscaping around it. Rather than stand rooted in the one spot where the phone works, take advantage of an area of good reception by setting up a cordless phone with a cell-phone connection.

RCA's Cell Docking System includes a docking base for your cell phone, plus a cordless 2.4 GHz handset. Currently they system works with selected Motorola, Nokia, and Sony Ericsson phones. If you have a cell phones equipped with Bluetooth capability, you can connect wirelessly to Uniden's 5.8 GHz base station and cordless phone. With any of these devices, your cell phone becomes, in essence, a second land line—but with a lot more free long-distance minutes.

Digital music in every room

Whole-house audio is a perennial promise from the electronics industry, but typically you need a pro to run wires to every room, which means tearing through drywall. Now there's an easier way to get music throughout the house. The Sonos Digital Music System does it wirelessly, letting you play different songs—or the same song—in as many rooms as you want, at the same time.

Sonos is surprisingly easy for a homeowner to set up and to use. The heart of the system is a component called a ZonePlayer. Hook it up to a computer anywhere in the house, and it streams digital music files (MP3s, Internet radio, and the like) to any space equipped with another ZonePlayer and speakers—upstairs, downstairs, even outside. The whole system is controlled via an LCD-screen wireless remote that lets you scroll through your whole music catalog and choose what songs you want to hear where.

If all you want to do is occasionally beam tunes from your stereo to speakers in the dining room or sunporch, an even easier (and cheaper) way is with RadioShack's Accurian HomePlug digital audio system. Plug in the audio transmitter ($15), and you can send sound from your CD or DVD player straight through the power lines in your walls to a pair of receiver/speakers ($20) plugged in across the room or across the house, no wires necessary. Since the signal travels over actual lines, the reliability can't be beat, but certain conditions, like old noncopper wiring or an abundance of fluorescent lights, might interfere with the signal.