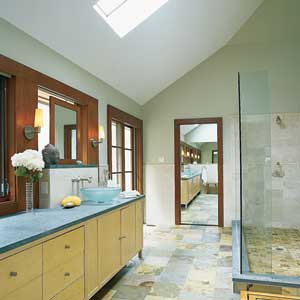 You work out, you sweat, you shower. But if both of you work out and sweat—well, then you fight for the shower. Which is why the flashpoint of many busy households is waiting to get under the hot water. Mark and Alexandra Smith, admitted gym rats and outdoor sports enthusiasts, solved that problem when they built a shower for two as part of a large-scale renovation of their Southampton, New York, home.

Annexing a section of a second-floor roof deck, the Smiths created a spacious 10-by-19-foot master bath, which accommodates two sinks along a 10-foot stretch of countertop and two dressing closets. "Our goal was room to move," says Mark. "We were used to bumping into each other in the bathroom."

While they had no problem getting rid of the pink plastic-laminate vanity in their old bath, they needed local architect Erica Broberg to integrate their wish lists for the new space. Mark wanted to see the outdoors from a multi-spray shower and Alexandra wanted a clean, modern look. The couple agreed on the use of rich, natural materials: highly textured, mottled slate tiles for the floor; limestone on the walls; and a mix of maple cabinets and mahogany millwork. The Smiths also insisted the space usher in the outdoors as much as possible. So Broberg added twin skylights ("Now I wish we had put in four," says Mark), suspended mirrors over each basin to allow the window behind to peek through, and installed a sliding door to the deck. All of which amplify natural light—as well as the sunset view while showering after an evening run.

What They Did:

1. ENCLOSED PART OF A DECK
By taking in a 10-by-11-foot section of an adjoining roof deck over the garage, the homeowners enlarged their master bath to a 10-by-19-foot space. They also relocated the bedroom door that leads to the bath and the one to the hallway.

2. CREATED AN EFFICIENT ROOM FOR TWO
An extra-large, two-person shower, twin sinks, and his-and-hers dressing closets allow a busy couple to clean up at the same time.

3. SAVED SPACE WITH SLIDING DOORS.
To keep open doors from jutting out into the long, narrow room, pocket doors were installed on the closets and sliders put in to give access to the deck.

4. BROUGHT THE OUTDOORS IN.
Windows above the vanity, sliding French doors to the deck, and a pair of skylights in the 12-foot cathedral ceiling bring light and views into the room. Organic materials—limestone walls, a gray honed-slate countertop and shower seats, maple and mahogany woodwork, and a multicolor, cleft-finish slate floor—also usher nature indoors.