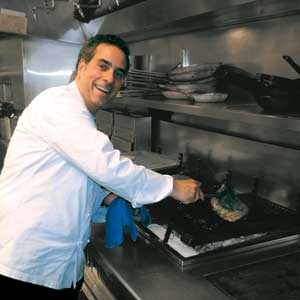 Kitchen Design Tips from a Chef:

Remember, you live in a home, not a restaurant.
"The condenser for a pro fridge can take up an entire upper cabinet."

Pick surfaces that suit your cooking needs.
"I can make bread and pasta on my granite, and it won't stain."

Work with a professional.
"Rather than two smaller cabinets over the sink area, we opted for one 51 inches wide, with two doors that open like a book to give full access to shelves."

Less is easier.
"I love being enclosed in a classic U-shaped kitchen. Everything is within reach."

Think double duty.
"I selected long, horizontal drawer pulls because I can also hang towels on them."