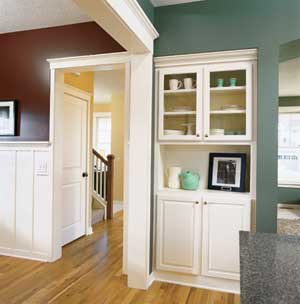 If you're restoring the rooms of a Greek Revival farmhouse or repainting a Craftsman kitchen, you may be wondering what the historically accurate interior colors might be.

Or maybe you just like the rich, sometimes-muted shades of eras gone by.

Between Behr, Benjamin Moore, Sherwin-Williams, Lowe's American Tradition, and specialty lines such as Pratt & Lambert's Williamsburg paints, there are hundreds of historic interior colors to choose from.

To make coordinating colors easier, some even offer palette cards for period house styles. You might be surprised to find out that the old-time choices weren't only about pleasing the eye. Farrow & Ball's "Cook's Blue," for instance, was so named because colonists believed that flies wouldn't land on blue walls, which made it a popular choice for kitchens.