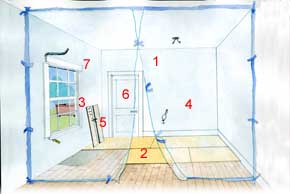 How does This Old House general contractor Tom Silva take down an outdated, nonfunctioning carport? On the count of three, naturally.

The carport is just one bit of sad architecture on the 1950 Modern-style house that is the current TOH television project, and it needs to go to make way for a real garage. So Tom has enlisted TOH host Kevin O'Connor, homeowner George Mabry, and Silva Brothers crew member Mike Sheridan to help him give the last wall one big tug.
(continued below)

But before the four could get to this dramatic point, Tom's crew worked all morning at the site in Cambridge, Massachusetts, carefully dismantling the structure. They ripped off the roofing, cut the joists, and detached the fasteners tying it to the house, so as not to take down more than they bargained for.

The new garage is just one aspect of the house's remodel, which will require a lot of demolition. Literally tons of old walls, plaster, pipes, and sheathing, along with the home's leaky roof, have to go before Tom can add on a first-floor library and bump up the second story. But the plan also calls for leaving much of the existing home intact, including nearly all of the exterior walls and one perfectly good kitchen.

Most renovations actually work this way: Change some sections, save others. Very few are wholesale teardowns, so it's not possible to simply drive up with a wrecking ball and swing away. "It requires controlled emolition — handwork," says Tom. "You're trying to be gentle with the salvageable parts."

Enthusiastic amateurs get into trouble when they tear into walls without stopping to learn what they'll find inside them. "They can end up removing structural elements or hitting pipes and wires," says Tom. To be safe, walls and roofs should be systematically disassembled in the reverse order of how they were put up.

So if your remodel requires taking down a wall or tearing off a roof — and you've got the nerve to try it yourself — turn the page to learn how the pros do it right. Of course, to play it safe you still might want to get the advice of an engineer. After all, additions cost a lot — but not nearly as much as a whole new house.