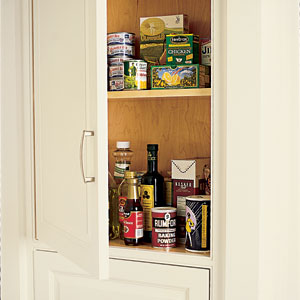 One route to Jay and Kirsten Johnston's kitchen goes from the foyer down a wood-paneled hallway and then takes a sharp right into a corridor lined with cabinets. On both sides, tall pantries topped by small cupboards rise up to the 10-foot ceiling.

A few steps farther along, the counters, appliances, and many more cabinets come into full view, and it becomes clear what this kitchen is all about.

"It's like you're walking inside a big cabinet," says Mac Patterson, the Connecticut architect who designed the kitchen. "The whole room is a cupboard."

With its walnut-topped island, marble counters, and a 7-inch wide white oak floorboards, the room is elegant, to be sure.

But its real beauty lies in much more than its pretty face. With twin sinks, two dishwashers, double wall ovens, a warming drawer, a 48-inch range, a full-sized refrigerator, a full-sized freezer, and cabinets, cabinets, and more cabinets, this is one high-functioning facility built for cooking, cleaning up, and above all, storing.

Tucked between a breakfast room and a large, oval dining room, the Johnston's kitchen is, in fact, relatively small. But in its 10 1/2 by 14 feet of space, Patterson has maximized storage while keeping the room bright with an 11-foot expanse of windows over the sinks.

"In today's kitchens, storage needs exceed workspace needs," he says. "You just don't need 30 feet of counter." The Johnsons are doing fine, he adds, with their 18 linear feet of Impera Dora marble.

"The kitchen's extremely functional," says Jay, who worked with Patterson to iron out the details, then hired Zepsa Architectural Woodwork (known for its precision boat interiors) to build the white-painted, raised-panel maple cabinets.

Patterson was careful to specify interior features to keep the acres of stored items in order. A pull-out bin holds recycling containers; a blind-corner base cabinet has slide-over, swing-out shelves; drawer dividers organize spices, and — the piece de resistance — a sliding library ladder makes the topmost cupboards accessible.

In a world where having too much storage is almost unheard of, Jay knows he has it good.

"There's so much cupboard space," he says, "we'll probably never fill it up."