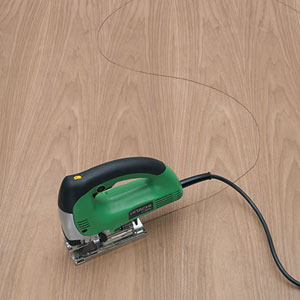 It won't zip through stock like a circular saw, and it isn't as brawny as a reciprocating saw. But a jigsaw combines versatility, portability, and finesse to do something those other tools can't: cut straight lines or sweeping curves in all sorts of materials, including wood, metal, plastic, ceramic tile, stone, and leather.
That's why it's a great first saw for a home workshop and, after the ubiquitous drill/driver, the most popular power-tool purchase.
In addition to making scroll cuts, jigsaws can also plunge cut — saw into the middle of a sheet of material — or making sink cutouts in countertops or holes in walls for electrical outlets. With skinny blades that piston with a short, stabbing motion, these tools are great for precise cuts in tight spaces.
Jigsaws come in two basic types — top-handle or barrel-grip — and with dozens of options, including variable speed, 360-degree scrolling ability, laser and LED lights, and new cordless models.
CLASSIC TOP HANDLE
This basic jigsaw is equipped with all the standard features: orbital action, which moves the blade slightly forward on the upstroke, for a quicker and cleaner cut; a blade-speed dial; and a splinter guard to minimize chip-out. $140;
Hitachi
BARREL-GRIP
This saw forgoes the top grip for a graspable motor housing. Like most jigsaws, the shoe can be angled for a beveled cut, as shown. $189;
Metabo
KEYLESS CORDLESS
To change blades on this 18-volt cordless model, just flip the handy quick-release lever in front. Also has a dust blower, three orbital cut speeds, and a variable-speed trigger. $250,
DeWalt
BRIGHT LIGHT
A white LED light comes in handy for plunge cuts (as shown) or any other cut. This top-grip model has straight up-and-down and orbital blade settings. $150;
Matika