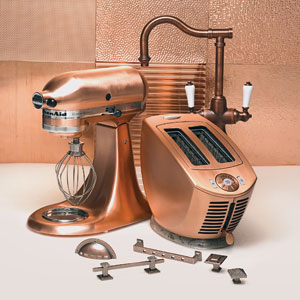 Its corrosion resistance makes it perfect for plumbing, its high conductivity well-suited for wiring, but it's the timeless look and durability of copper that make it a good choice for kitchen appliances and countertops.

After nearly a decade of domination by stainless steel, manufacturers are expanding their metal offerings with new products made from copper.
(continues below advertisment)

"People are looking for something warmer," says Cynthia Castillo, national installation merchant for EXPO Design Center. This summer the retailer started selling copper countertops and backsplash tiles by Frigo Design. In coming months, EXPO plans to expand its lineup of copper sinks, faucets, small appliances, hardware, and light fixtures.

Then there's the new, $47,500 copper range from La Cornue, the Bentley of pro-style cookers. "It will take an army to keep its brilliant shine," says company spokesman Alex Goin. "But if you leave it alone it will get a nice antique look with shades of blues and greens."