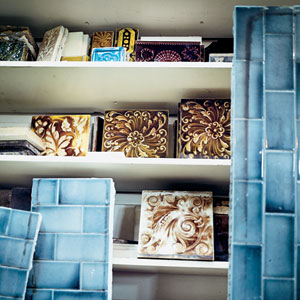 Today, ceramic tiles are mostly unremarkable squares used to create tidy, washable surfaces in kitchens and baths. But a hundred years ago, tiles were covered with vibrant colors, intricate patterns, and bold figures to enliven the look of foyer floors, wainscoted dining room walls, and living room fireplace surrounds.

American tiles produced from the late 1870s through the mid-1930s were a practical and eye-catching feature in middle-class houses and grand public buildings. "They were the art of the everyday," says Bill Stern, executive director of the Museum of California Design and a Los Angeles tile collector.

And thanks to a growing appreciation for the styles and fine workmanship of the past, antique tiles are once again adding life to both new and old houses in backsplashes, borders, stair risers, and door surrounds.