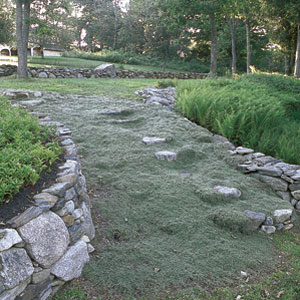 A dotted line of flagstones or a curving ribbon of gravel may be an invitation to get out and enjoy the garden, but too often a well-worn path ends up ringed with bare dirt. There are, however, plants that withstand stomping nearly as well as Astroturf and can blend hardscape elements into their otherwise lush surroundings: tough, low-growing, creeping perennials that will take root almost anywhere. "Put them around patio pavers, at the base of the mailbox, next to the driveway, or around the edge of a pond," says Fran Hopkins, a horticulturist and the founder of Stepables (
stepables.com
), a grower of creeping perennials. Some are even tough enough to stand in for paved surfaces. "Plant miniature thyme as your patio floor and just add furniture," says Hopkins. "Or park the car on a carpet of miniature brass buttons."
There are plants suitable for moderate to light foot traffic (twice a day to twice a week traipsings) and even heavy foot traffic (three or more times a day). While most grow just grasshopper high, they may spread anywhere from 2 to 12 inches a year, so match the plant to the space at hand. Some varieties, such as ornamental thyme, with dozens of cultivars that flower pink, white, or yellow, come with an added bonus, releasing a scent when stepped on.
Creeping perennials generally like well-drained soil and a 20-20-20 liquid fertilizer during growing season. Many, such as rupturewort and dianthus, are propagated by dividing the root ball. Others multiply every time they're stepped on and a leaf node breaks off, taking root in the soil.
To help green up your gray (or ground-down) spaces, check out our list of recommendations on the following pages.