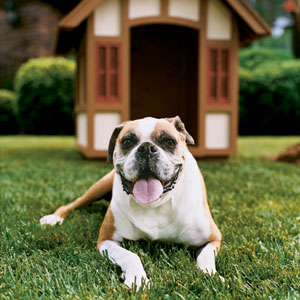 A Doghouse Like Your House
No, we are not barking up the wrong tree with this story (and, yes, that's just the first of a whole bunch of really bad wordplay you'll find in the next handful of pages). Frankly, we think doghouses are right at home in
This Old House
. From our point of view, the five canine cribs that follow make perfect sense given the love affair that most Americans—and certainly our readers—have with their pets. But we also think these doggie domiciles are a pretty good way of putting the fine-craftsmanship cornerstone of
TOH
on display.
Our dog's-eye view takes in centuries' worth of classic house styles, from a
stately brick Georgian
to a
storybook Craftsman cottage.
Not least of all, it makes sense because doghouses figure in so many of our earliest memories—and we don't just mean the ones involving a certain biplane-flying beagle. A lot of those memories involve some fledgling attempts at carpentry. Somewhere between bending nails with a choked-up grip on the hammer (age 2, say) and building a secret fort with scavenged scraps (perhaps age 12), there was the doghouse. Maybe yours was simple: just four walls and a flat tar-paper roof thrown up on a hot Saturday afternoon. Maybe you got ambitious and put on a peaked roof. Or maybe you even built something like what we've got here, in which case, congratulations and we've got a kitchen remodel we could use some help on.
Keep reading for all the information you'll need to create a beautiful, durable doghouse for your pet.