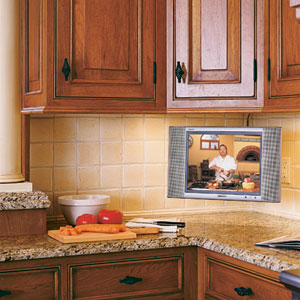 Most kitchen appliances are all about food: storing it, cooking it, and cleaning up after it's eaten. Except for the television. But even though it fails miserably at food prep, the TV has become as common in the kitchen as any power mixer or espresso maker.

"You're no more surprised to see a TV in a kitchen than a microwave," says McKee Patterson, partner at the Connecticut architectural firm Austin Patterson Disston. "It's just not a big deal anymore."

In the past, TVs were too big and clunky to fit comfortably in all but the largest of kitchens. But with the advent of flat plasma and LCD screens, you no longer have to give up valuable countertop real estate. In fact, screens have become so slim — some are just 2 to 4 inches deep — that they can go nearly anywhere.

Meanwhile, falling prices have virtually eliminated cost from the equation. "A small LCD TV is about $500 — anyone can have one," says Jack Borenstein, president of Ultimate Sound and Installations in New York, which installs 10 to 20 kitchen televisions each month.