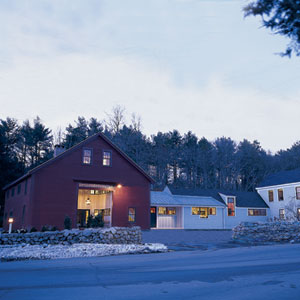 On a drizzly spring day just about 12 months ago, This Old House bought a piece of history — an 1849 New England farmstead to renovate for TOH's coming television season. A check for (gulp!) $643,000 was handed over, and the crew started in on their most ambitious project to date: remodeling the original Greek Revival house, converting the old barn into living space, and completely rebuilding the ell connecting the two. In the end, the guys were left with lots of memories and a remarkable finished house that's now open for public snooping as a designer show house. They also ended up learning a lot — a renovation, it turns out, is very different when you own the place and aren't just contractors on the job site. The lessons? About time and money well spent. About making decisions, easy and hard. About how best to blend the old and the new. The editors of this magazine figure you might learn a few things from their experience, too. So here's a sort of TOH family scrapbook — a journey in words and pictures that ambles through the whole nerve-racking, fun, exciting, humbling, and rewarding endeavor. We hope once you read it through, you'll be able to tackle your next renovation with a little more wisdom and a lot less worry.

A Mile in Your Shoes

The crew of This Old House started a collective personal journey the day we bought our rambling farmhouse last spring. Each of us began, then and there, to imagine ourselves and our families living in the house to be. Some of us were sleeping in a splendidly isolated master suite above the barn, while others thought how nice it would be to have the kids just upstairs in the old Greek Revival house.

With the help of architect Jeremiah Eck, we all came around to a unified vision: A public end of the building (the barn), a private end (the old main house), and communal spaces — the kitchen and dining room — in the new ell connector that links them together. It was then that our dual roles as homeowners and crew began. Watching the excavator rip into the old ell, while exciting, also caused the more tenderhearted among us to wince. Not only were we taking down a piece of history, albeit a poorly built and barely functional one, but now we were really in it: no turning back, with the money tap fully open.

And so began the onslaught of small but important choices that, for decades, we've watched other homeowners stress over. Ante up for radiant heat? (Yes.) Which kitchen cabinets? (Custom, flat-panel, painted.) Same moldings throughout, or simpler in the barn? (Same throughout.) Sometimes we argued — usually over ceilings, for some reason. Should the bedroom in the new master suite have a cathedral ceiling? Was it worth the expense of raising the old ceilings in the kids' bedrooms? Did it make sense to replicate the rustic beams of the barn on its new ceilings? In the end, we decided "yes" to all three.

We had the advantage of being able to give each other professional advice. Master carpenter Norm Abram and general contractor Tom Silva showed us how we could insulate and plaster between the barn beams, then skin one exterior wall (behind the fireplace) with structural insulated panels to preserve a piece of the barn fabric inside. Plumbing and heating expert Richard Trethewey designed a state-of-the-art HVAC system. Landscape contractor Roger Cook suggested a bluestone-and-granite patio based on another job he'd done. And interior design consultant Alexa Hampton created period-perfect Greek Revival moldings that we had made into new casings, baseboards, and crown.

Now that we're finished, we're probably like most homeowners — tired out, happy about most of our decisions, comfortable with our compromises, and just a little sad the big ride is over. But unlike most homeowners, we won't inhabit the house we've built. Sadly, we have to sell our dream home. We can only hope the new owners will think fondly of the previous ones.