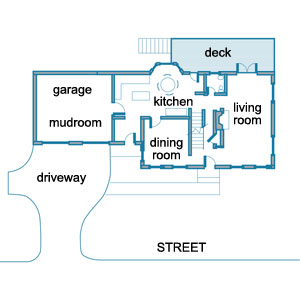 The Starting Point

In each of the following four scenarios, we start with the same house: a 3,400-square-foot center-hall Colonial, measuring 26 feet deep by 38 feet wide, with a two-car garage. The house is set on a half-acre lot (defined by 100 feet of frontage and 200 feet of depth), centered on the lot and 40 feet back from the street.

This basic scenario is representative of millions of American homes today.The most frequent remodeling project that I'm asked to design these days is the family room/kitchen addition. It stands to reason: Most American houses were built a generation or more ago, when isolated kitchens and basement rumpus rooms were the rule. Today, people value openness in a home's plan and want to create a space that can function as a hub for family life.

But adding on does more than just change the way a house functions on the inside. It also alters, sometimes radically, the "parent" building's relationship to the plot it sits on. If it's thoughtfully planned, an addition can take advantage of unique landscape features — capturing the scenery, for example, or improving access to the backyard. In the wrong place, though, it can cut off views, block light, and isolate a house from its surroundings.

To illustrate how additions can impact different sites, I've taken a 20-by-30-foot family room/kitchen addition, typical of today's projects, and added it on to an equally typical 3,400-square-foot center-hall Colonial. The four examples on the following pages show some of the ways additions can be oriented to take advantage of — or compensate for — specific site conditions.