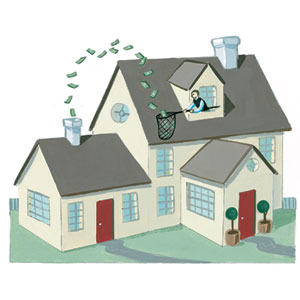 Last spring, Matthew and Jennifer Rumain set out in search of a three-bedroom house in the trendy University City section of West Philadelphia. Parents of a 4-year-old son, they were attracted by the neighborhood's good schools, young families, and turn-of-the-century architecture. But they soon discovered that all the suitable properties were out of their range. "We were being shut out of the housing market," says Matthew, a 28-year-old advertising manager. That is, until they found a 100-year-old, three-family brick Romanesque Revival for $270,000 — two-thirds the cost of similar single-family houses nearby.

A couple of years ago, the Rumains would have considered becoming landlords a crazy idea, but the economics of a hot real estate market changed their minds. Buying a multifamily house not only got them into a neighborhood they otherwise couldn't afford, it also provided them with enough rental income to cover most of the monthly mortgage payments.

The same scenario is playing out in Boston, Washington, D.C., Chicago, San Francisco, New York, and other big cities, where prices of single-family homes are going through the roof, spurred by urban revitalization and historically low interest rates. For homebuyers willing to take on the added responsibility, a multifamily can be the most economical path to the house of their dreams. In Manhattan, for example, the average 2003 sale price of a duplex was 31 percent below the cost of a single-family home (42 percent for three- to five-unit houses), according to Miller Samuel, a local real estate appraisal firm.

That's because most people don't want the headache of managing tenants, and many multiunit houses are more rundown than single-family homes, says Miller Samuel president Jonathan Miller. But if you go into it with your eyes open — and especially if you can do some of the repair work yourself — the rewards can far outweigh the challenges. "From a financial perspective, there is little downside to owning a multifamily home," says Bradford Hall, managing director at Southern California-based accounting and consulting firm Hall & Company. In many cases, rents cover two-thirds and sometimes all of the monthly loan payments. And even before you buy, rentals pay off because banks usually consider a portion of expected rent payments as additional income. That means buyers of multifamilies are typically eligible for larger loans, making it possible to purchase a more expensive property.

There are tax advantages, too. For IRS purposes, the house is divided into the amount of space that the homeowner lives in and the space the renters occupy. For instance, if you own a 3,000-square-foot two-family and a tenant occupies 1,000 square feet, one-third of all expenses — mortgage interest, property taxes, utilities, landscaping, external improvements, and the like — are allocated to the rental unit and subtracted from rental income. Also deductible is depreciation on the unit (essentially an allowance for wear and tear), plus 100 percent of ongoing repair, maintenance, and replacement costs specifically earmarked for the rental, such as a new water heater, carpet cleaning, or fresh coat of paint.

With such an array of costs, many homeowners show a loss from their rental properties, which they can usually write off on their tax bill. "With a multiunit home, an individual can enjoy real income that pays their household expenses and a hefty tax deduction generated by that income," says Norm Bour, a mortgage broker who hosts The Real Estate and Finance Hour, a nationally syndicated radio show based in Southern California.