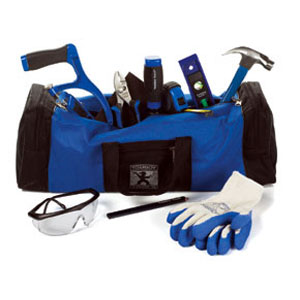 If you're thinking about buying hand tools for that lucky lady in your life — or if that lady is you — the home-improvement industry is clamoring to sell the long-neglected do-it-herselfer lightweight hammers and hacksaws with ergonomic grips. Curious to see how well the gender-specific tools performed, TOH asked three handywomen to put some popular kits to the test:
TOMBOY TRAVELER
, Approx. $59.95
Tomboytools.com
Tools:
hammer, slip-joint pliers, utility knife, multi-bit ratchet screwdriver, tape measure, sanding block, level, hacksaw, carpenter's pencil, gloves, safety glasses
Tested by Alexandra Bandon, TOH senior editorPros:
The gender-free bag and tool designs respect the idea that women don't want to be treated differently.
Cons:
The 8-ounce hammer, 6-inch slip-joint pliers, and hacksaw are too small for many household projects. And the magnetic torpedo level isn't level in this kit.
What I'd change:
I'd prefer larger locking pliers and a lightweight titanium 10-ounce hammer, which is both light and powerful.