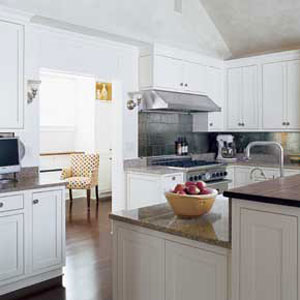 Somewhere between The Dick Van Dyke Show and The Sopranos, the American kitchen stopped being some faraway room offstage, from which casseroles miraculously appeared, and became the family hangout. Like Tony and Carmela's great-room cooking space, today's kitchen is where everybody ends up—to sit down for dinner, scrounge up a snack, stare at the TV, tear open the mail, and generally take care of family business (minus the guns, wiretaps, and screaming matches, we hope).

It's not the first time the kitchen has taken center stage in our homes. In the 19th century, in houses without servants, it was the primary gathering place because of the cooking hearth, says social historian Merritt Ierley, who has traced the evolution of modern conveniences in The Comforts of Home. "The kitchen was the warmest room in the house, and sometimes the only warm room," he says. This Old House TV's current project house, an 1849 farmstead in Carlisle, Massachusetts, once had a similar sort of kitchen, with a potbellied stove—modern for its time—in the middle of the room.

Future owners of the Carlisle house won't need to warm their hands over an open fire, but they will enjoy a kitchen that's once again a nexus of family life. As envisioned by the TOH team and designer Kathy Marshall, who has created over 100 dream kitchens for clients in the last 10 years, the Carlisle kitchen offers all the elements 21st-century homeowners want. "The challenge was to create a kitchen for today's lifestyle that still feels warm and cozy," says Marshall.

Who wouldn't want a piece of that? Here's a look at the smart choices they made—and how they can apply in the hub of your own home.