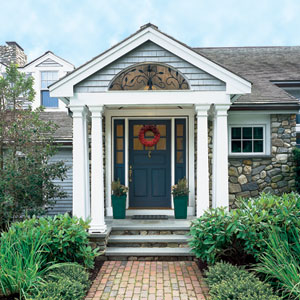 Ever visit a friend who'd just finished a serious renovation? Did you have that grudging admiration heading up the new walkway, that slight hollow in the belly as you climbed the steps to the new front door?

New Take on Tradition

A gabled portico with six tapered columns (above) and a fanciful interpretation of a fanlight — a half-round cut-out in the gable with wrought-iron grillwork — gives presence to the entry of this newly built seaside "cottage" but keeps the mood informal. To add another level of detail, architect Thad Siemasko inlaid a band of purpleheart wood in the white-painted trim surrounding the the door and sidelights. The fieldstone on the stair risers and the shingles and wood trim on the gable echo elements used elsewhere on the house. Well, that's all just envy. What you should have sensed was what your buddy surely intended: a greeting at the gateway to his home that felt like a good handshake: solid, friendly, and wanting to impress.

A well-designed entryway delivers just that, making anyone passing through it feel a little important and very welcome. "What's key," says Thad Siemasko, the architect who designed the house shown here, "is that an entry be inviting, and that it enhance the character of your house."

From a practical standpoint, it should provide a place for packages and mail, and give visitors well-lit shelter from the elements. "It's not very gracious to make guests stand in the pouring rain," comments architect McKee Patterson, who says about half of his renovation projects include improving the entryway. "Think of the area as an extension of your foyer." Yet many homes do have entries that are less than gracious, especially if they were put up in the past 40 years. If yours falls into that camp, adding an entry porch, or portico, is one sure way to endow it with a friendlier facade. Often it's the one feature that gives a plain house character. If you want to open the door to that kind of improvement, read on — you'll find the best advice This Old House has to offer.