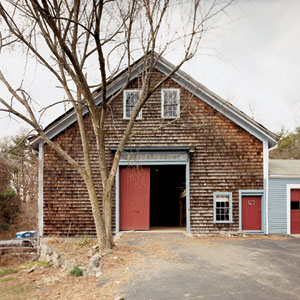 Tom Silva adjusts his glasses, picks up a reciprocating saw, and makes a perfect Z-shaped cut through the bottom of a 150-year-old hand-hewn post. The massive timber is a major structural element in the barn portion of the classic New England connected farmhouse that is the subject of the current This Old House TV project in Carlisle, Massachusetts. But right now it's dangling in midair, temporarily relieved of its duties while Tom performs surgery.

"About half the posts in here were five inches too short," says TOH's general contractor as he sets the saw aside. "They looked fine until we replaced the structure that would support the floor and started to lower the jacks holding up the barn. That's when we noticed the problem." The old barn floor had been built on two levels — no one is sure exactly why. But years of accumulated debris and patchwork repairs had hidden the step-down. To lengthen the posts, which will be visible once the barn is finished, Tom splices in additional sections of equally worn and aged timber salvaged from posts he's replaced in the garage below. He uses a half-lap scarf joint, a beveled zigzag that's fastened with construction adhesive and locked tight by the weight of the barn itself — no hardware needed.



The job isn't that complicated. But it's a reminder that creating modern homes from fallow barns involves a lot more than just hauling out the rusty junk, brushing aside some cobwebs and cow manure, and hanging drywall. Still, despite their often derelict condition, there's a romance to these rustic structures that makes people yearn to reinvent them as habitable homes.