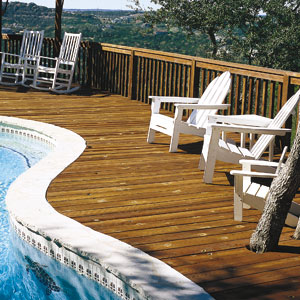 Professional refinisher Erich Specht has been rejuvenating weather-worn decks in and around Austin, Texas, for 18 years. Equipped with little more than a power washer and a pump sprayer, he can clean and restain even the most down-at-the-heels deck in just two days. "You'll be surprised at how easily and effectively a homeowner can accomplish the same thing," he says.



On the following pages, Specht shows his technique for bringing an old deck back to life. The keys are simple: Use the right cleaners, work methodically, and go easy with the power washer. "It'll gouge the wood real badly if you're not careful," he says

Depending on the type of finish you use, your climate, and how much sun your deck gets, a newly refinished deck can go about two to four years before it needs redoing. All a homeowner has to do in the meantime is sweep off leaves (they trap moisture) and routinely hose and brush off pollen and dirt.