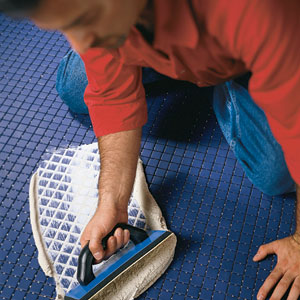 When grout does its job — locking tiles tight, keeping out water, and giving floors and walls a finished look — nobody pays much attention. It's only when grout fails, becoming stained, cracked, or falling out altogether, that people take notice.

But grout deserves more respect. "Not only does grout fill the voids, it makes the floor, wall, or countertop stronger by bonding the tiles together and preventing the edges of a tile from chipping and cracking," says David Goodman, the tile contractor for This Old House's Nantucket project.

Cement-based grout

Grout comes in two basic types, and the choice of which one to use depends not on the tiles but on the width of the joints between them. Narrow joints of 1/8 inch or less call for unsanded grout, a pudding-smooth blend of Portland cement and powdered pigments mixed with water. Joints wider than 1/8 inch get sanded grout — the same material, but with sand added. The sand helps bulk up the grout and keeps it from shrinking in the joints.

Three decades ago, when he started in the business, Goodman says, "we'd just add powdered grout to a bucket of water and away we'd go." But older cement-based grout was brittle and prone to cracking. It also dried irregularly, leaving colors inconsistent. Today's grouts use polymer additives, which ensure color quality and increased flexibility, allowing for joint widths of up to 1 1/4 inches. Those wide joints come in handy for camouflaging irregularities in handmade tiles and for bridging the varying thicknesses of tile in some patterned installations.

Despite their improved performance, however, all cementitious grouts are porous and subject to staining. That's why manufacturers and installers recommend sealing grout after it has cured for a couple of days and is completely dry. Sealers come in two varieties: membrane-forming and penetrating. The first type is prone to peeling or getting cloudy when residual moisture from mastic or underlayments pushes to the surface of the tile. Penetrating sealers, which still breathe after soaking into tile and grout, are preferable. Goodman sometimes invites customers to save on labor costs by sealing the grout themselves. "I give them some cotton swabs or a disposable brush, along with a can of sealer, and make them promise me they'll finish the job."