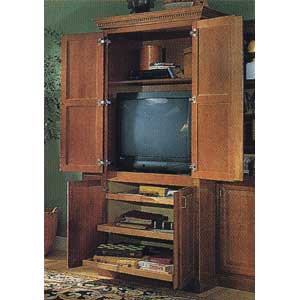 Does your living room look like a warehouse for audio/visual equipment? An entertainment center will house your television set, VCR, stereo system and video-game station in one space-saving place. These wall units are specifically designed for this electronic gear. They also provide storage for videotapes, compact discs, cassettes, game cartridges and even your old LPs.

On the outside, entertainment centers closely resemble other wall units. Their deep base cabinets have doors or drawers, or both, and are topped with open shelving units. The middle cabinet typically houses a TV, so it's much wider and deeper than the shelving units that flank it.

Inside, however, you'll find a variety of specialized features. For example, rollout shelves provide easy access to individual electronic components, while adjustable drawer dividers neatly store tapes and CDs. Most also feature slide-back doors that allow an unobstructed view of the TV.

The Best of Both Worlds

Until now, entertainment centers came two basic ways. You could build one from scratch — a good option if you happen to be a skilled woodworker with lots of spare time. Or, you could buy one from a furniture store or custom cabinetmaker — and pay a princely sum.

A much easier and less expensive option is to assemble one from stock kitchen cabinets. That's how we created the cherry entertainment center shown here. And after we got set up, it took just two days.

This project is an assemblage of five cabinets from American Woodmark's new Moorefield line of premium stock cabinets. The center TV unit is a 36-in.-wide x 84-in.-tall utility cabinet turned upside down. On either side of the TV unit is a standard 18-in.-wide x 30-in.-tall wall cabinet topped with a 48-in.-tall bookcase.