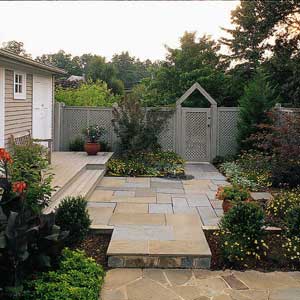 It's easy to achieve total privacy—simply surround your property with an 8-ft.-high stone wall. If that sounds a little too much like a fortress for your taste, there are less drastic options ranging from vine-covered fencing to an informal fragrant rose hedge. The goal is to create a buffer that provides privacy and is beautiful and neighborly as well.

Here we describe the basic privacy solutions—plants and fencing—and show smart ways to combine them.

Fencing
A fence goes up fast, providing instant privacy. And, if you choose materials well and build it carefully, a fence is relatively easy to maintain and will last for decades. It will also do a good job of keeping strangers out and kids and pets in.

A 6-ft.-high fences takes up only 10 to 12 in. of ground space. Plus, with so many styles and materials to choose from, you can easily match your fence to your home and other landscape features.

Disadvantages
Surrounding yourself with a solid fence creates a "boxed-in" feeling, especially in a small yard. What's more, local ordinances often limit the height for perimeter fences, and also stipulate a minimum setback from the street for a front fence. And a fence constructed at an allowable height of 5 or 6 ft. might not be sufficient to screen views from the neighbors' second-story windows.

Cost can also be an issue: A high-quality, 6-ft.-tall cedar fence starts at about $11 per linear foot, installed. You can save 40 to 50 percent if you buy the materials and put up the fence yourself.

Making Fences Work
Before you build, check with local officials for setbacks and height restrictions. The maximum allowable front yard height is often just 42 in. A backyard fence usually can't be over 6 ft. And, you might need a building permit.

As a courtesy to your neighbors, choose a fence design that looks good from the front and back. (In some communities, this is mandated.) Better still, discuss your plans to build a property line fence with neighbors. Make certain of property line location in any case, and don't stray onto neighbors' property.

Select the fence style carefully. A solid-board fence blocks the view completely but it cuts out light and breezes. Who wants to feel trapped in their own yard? Open fences, such as those with louvers and lattice panels, are friendlier and more comfortable and will also make the yard feel larger. They combine beautifully with plants, serving double duty as privacy screen and vine support.

You might not need to surround your entire yard to gain privacy. Fence sections placed in the yard may be all that's needed to screen a sitting area, patio or deck. This cuts the expense and work, and creates separate outdoor "rooms" and often a more livable yard overall.

Do keep interior fencing as low as possible. Otherwise it will feel intrusive and cast too much shade on adjacent plants.