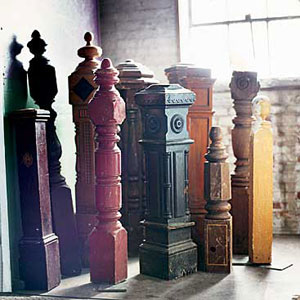 Perhaps the most intriguing newel post ever salvaged came not from a crumbling estate but rather from a wrecked "floating palace," the RMS Titanic.

Carved from English white oak and bearing a fruit, vegetable, and floral motif, the newel was part of the ship's Grand Staircase. It was among the debris fished from the North Atlantic during the recovery effort just days after Titanic sank on April 15, 1912.



The relic—actually just two of its face panels survived—is now on display at the Maritime Museum of the Atlantic in Halifax, Nova Scotia. But if you want to possess your own piece of history, architectural salvage shops stock dozens of old newels—some with carvings as fine as those on the Titanic artifact.

Positioned at the end of a flight of stairs, a newel post's primary purpose was to support the balustrade. One of the first architectural features a visitor would see in an entry foyer or central hallway, newels also had a decorative function and were often designed to impress with columnlike shafts, plinth-block bases, and finial tops.



Because of their structural importance, newels were typically made from hardwoods such as walnut and oak. And unlike stair spindles, which tended to be turned from lesser, paint-grade woods, the majority of the posts and the handrails they anchored were clear-coated with varnish or shellac to show off their grain patterns and fine craftsmanship. "Unpainted wood was also easier to keep up, with hands running along it all the time," says Mark Foster, who runs Second Chance, a nonprofit salvage dealer and deconstruction outfit in Baltimore. "We all look for low-maintenance materials today, but the idea wasn't lost on people a hundred years ago."

The most ornate newels, which can be more than a foot thick at the base and up to 6 feet tall, date to the Victorian period, from about 1860 to 1890. These were typically turned on a mechanical lathe, producing elegant beaded shafts that were then embossed or built up with applied carved panels. Finials took the shape of acorns, urns, even figural busts of exotic animals. By 1910, pattern books and manufacturers' catalogs displayed simpler newel post designs in keeping with the emerging American Arts and Crafts movement. The staircase in a Mission- or Craftsman-style bungalow of the era, for instance, would have had a boxy, clean-lined newel, perhaps with applied wooden detailing to mimic the look of exposed joinery.